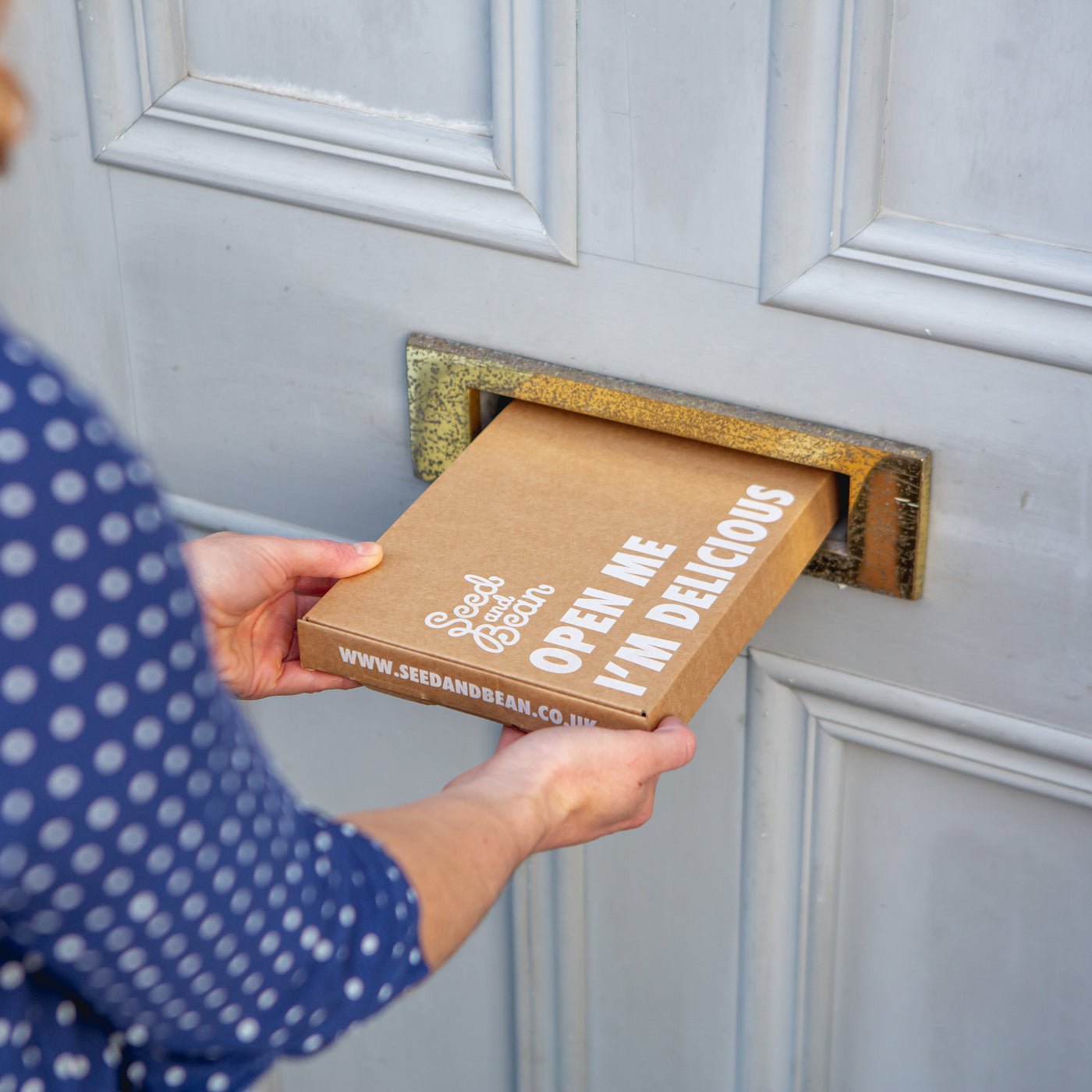 Seed & Bean Subscription Box
$21.00
Keep running out of delicious, organic chocolate?

Gift yourself or your loved ones a monthly supply of chocolate delights. 
Each month we'll select the perfect pairings, delivering 6 seasonal bars to your letterbox.
With our super easy pre-paid options, you can purchase either 3, 6, 9 or 12 months at once, saving your hard-earned cash and securing bonus points for birthday and Christmas gifts, anniversary presents or just treating yourself, because you deserve it.
1. Choose between our Classic or Vegan Classic options.
2. Choose how many months of chocolate you want to gift. Pre-pay for an even bigger saving! Choose from 3, 6, 9 or 12 months of chocolate deliveries. 
Subscribe at £15.99 per box. 
Pre-pay for 3 or 6 months of chocolate at £15.49 per box.
Pre-pay for 9 or 12 months of chocolate at £14.99 per box. 
3. That's it. Each month 6 yummy bars will appear through your letterbox. 
Please note, side effects of our chocolate subscription may include excessive smiling and loud expressions of joy.
Classic:
This subscription box is for those who love any chocolate they can get their hands on. With a variety of milk, dark and vegan 'milk' bars hand-picked to suit the seasons, you can expect flavours like juicy Raspberry & Coconut or zesty Sea Salt & Lime in summer and warming Mandarin & Ginger or festive Mint in the colder months. 
Vegan Classic:
Exactly the same formula as our Classic box. A gift like no other for chocolate fiends, but this time, we've cut the milk. Expect a variety of dark and vegan 'milk' bars hand-picked to suit the seasons. 
Jared's Box:
This is an extra special subscription box named after a lovely chap named Jared, a close friend of Oli, our Chief Chocolatier. Jared was an usher at Oli's wedding and used his top tier friendship status to convince Oli that he needed his own tailor-made subscription box. So if you too would like to receive 2 x Coconut & Raspberry, Hazelnut and Sea Salt bars each month (nothing more and nothing less, no variation), then feel free to join Jared in his very specific chocolate obsession, by selecting this box. 

PLEASE NOTE: Subscription boxes will be sent out in accordance with the date you signed up (eg. if you signed up for a monthly subscription box on 1st June, your next box will be sent out on or around 1st July). We allow normal delivery times for these orders.
If you wish to change your subscription type, this can be done on your account page or here.
Allergen Information
Our chocolates are produced in a factory that handles milk, gluten, nuts, peanuts, and tree nuts. We therefore want to let you all know that there may be traces in our bars.
Additional Information
Organic · Single Origin · Vegan (Dark Chocolate Only) · Palm Oil Free · Recyclable Outer Wrapper · Home Compostable Inner Foil
Delivery Information
PLEASE NOTE: During the summer when the temperature reaches c. 25 degrees we may have to pause shipments to ensure your items arrive in the best possible condition.
PRICING
FREE UK Delivery with all orders over £25
Letterbox Delivery (valid for up to 6 85g bars only) - £2.50
Standard Delivery (2 - 5 working days) - £3.99
Next Day Delivery (for all orders placed before 12pm) - £6
SUMMER TIME DELIVERY
During the summer we reserve the right to delay shipment if the weather is circa 25 degrees over a 2-3 day period to ensure your items arrive in the best possible condition.
Absolutely delicious
I initially purchased seed and bean as a subscription - as a treat for my daughter who is away at. Uni. She raved about it so I got some for myself and she's quite right. Lovely chocolate in some wonderful flavours.